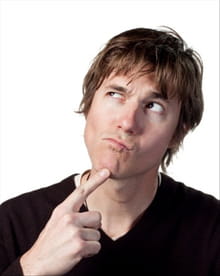 A man went grocery shopping, and wanted to buy some soup. He found two different brands that both looked good, but he only needed one can of soup. Which one should he buy? He read the labels and studied the ingredients. He compared the prices. They both looked good, and the man couldn't make up his mind. So the man prayed about it. Which can of soup would God have me buy? After prayer, the man felt he had received an answer, put one can of soup in his cart, and went to make his purchase.
Some may say, "Wow, what a spiritual man! He even prays over what food he will buy." But in fact the man in this story has forgotten the blessing God has given us to choose for ourselves.
"For behold, it is not meet that I should command in all things; for he that is compelled in all things, the same is a slothful and not a wise servant; wherefore he receiveth no reward. Verily I say, men should be anxiously engaged in a good cause, and do many things of their own free will, and bring to pass much righteousness. For the power is in them, wherein they are agents unto themselves. And inasmuch as men do good they shall in nowise lose their reward."
— Doctrine & Covenants 58:26-28
God has given everyone the divine gift to choose for themselves the path they will take, and he will never take that gift away from us. In the Old Testament, the prophet Joshua said, "Choose you this day whom ye will serve" (Joshua 24:15). Sometimes our choices are between good and evil, and sometimes our choices are between good and good. Sometimes it doesn't matter to God which choice we make -- "Should I wear my red socks or my blue ones? Should I buy the chicken soup or the tomato?"
Don't get me wrong - there are some choices that take a lot of study and prayer, but do not feel you must be directed in every single choice you make. If you are studying God's word daily, praying daily, and always looking for the opportunity to do good, you will not be led astray. Be confident in the gifts God has given you of free will, and show Him you are confident and capable of choosing the right. Have faith in yourself!
With love,
Jean
-------------------------